Stress Free Holidays for Your Customers and Customer Service Staff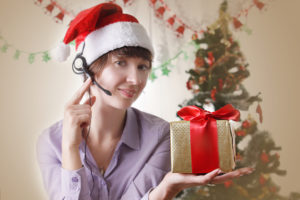 Stress can be a real pain at the best of times, but during the holiday season, it can really sneak up on you. Customer service can be even more stressful during the holiday season, but luckily there are some things you can do to mitigate the effects of stress on your customer service team and your customers.
Make sure your customer service team is fully trained
Make sure that your customer service teams knows what it's doing before the holiday rush. Brush up on training, if necessary, so everyone is on the same page about how to handle every situation that might occur. It's not a bad idea to offer refresher training if your staff have been doing their job a while. It's even better to offer newer training to give them more tools with which to wow your customers.
Take breaks
It can be tempting to shorten or even skip breaks when the phones get busy, but this isn't a good idea. Your employees need  these breaks to 'reset and refresh' themselves throughout the day. If you're truly struggling to meet the call volume and allow breaks, consider bringing in extra employees or using a call centre for overflow calls. This takes some of the stress off your team and allows them to provide better, less-stressed customer service.
Underpromise, overdeliver
This simple concept works all year round and keeps customers happier, too. Happy customers means less stressed employees, so use this technique as often as you can. Simply underpromise on what you can achieve, then overdeliver on your solution. If customers receive better service than they're expecting, they'll not only be delighted, but they'll be more likely to remain loyal to your business.
Let staff have more control
It can be exceptionally frustrating for your customer service staff to have to stop what they're doing on every other call so they can seek supervisor approval for small actions. During the busy season, give them more decision-making power and trust them to do their jobs well. They may surprise you–and your customers–with amazing results.
Speak to Answer 365 today about your customer service and call centre needs this holiday season.